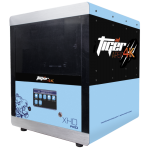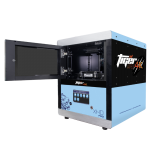 Tiger Apex 4K XHD PRO
Brand:  Tiger3D
Build Plate Area: 1 10 x 62 x 120 mm (4.3 x 2.4 x 4.7 in)
XY Resolution:  40 um
Z Resolution:  5 um to 200 um
Wavelength:  385/405 nm
Description
COMPARISON CHART
Description
High Precision 4K 3D Printers for Jewelry
Tiger3D APEX K Series is the newest edition to our family of The Most Advanced High Definition DLP Printers. Packed with features like an all-new Windows-based interface and Automatic Cleaning System, built-in Wifi, and 20% faster printing speeds, Tiger3D APEX K Series is a quick line to your business' production!
Increased Efficiency

All new Tiger3D printers now print 20% faster than their predecessors and feature an Automatic cleaning feature to Keep your Tiger's resin tank clear of hardened resin and other debris.

Superior Technology

Powered by an all-new Windows interface, the world's most popular operating system. This machine features built-in Wi-Fi for remote operation and monitoring. Unlike other systems, Tiger3D Printers allow the operator to run all 405um resins thanks to its open-source system.

Protective Layering System

Provides smoother surfaces, more precise printing, fewer supports, and faster growing times.
INTUITIVE CONTROL

OUTSTANDING DETAIL

CASTING PERFECTION

With a robust Windows-based operating
system, Tiger3D Apex printers give you the
most control over your 3D printed parts.
Tiger3D APEX brings your designs from computer
to print, reproducing every single detail with the
utmost precision.
Our selection of castable resins enables your
prints to be directly cast and formed into
metal. Our famous Burgundy resin is used by
casters and jewelers all over the world.