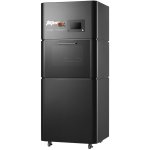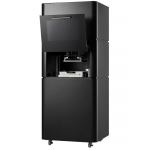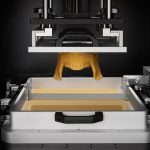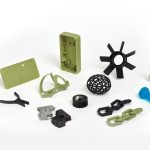 Tiger3D APEX 8K – XL MAX
Brand: Tiger3D
Net Build Volume (xyz) : .8 x 5.5 x 7.8 inches – 250x140x200 mm
Metal type : Sterling silver
Resolution (xyz) : 65 μm
Electrical : 100~240V AC, 2A, 50hz/60hz
Dimensions (WxDxH) : 32x31x78 inches (82x79x200 cm)
Weight : 573 lbs (260 kg)
Description
8K Projection Technology
The Tiger3D APEX 8K – XL MAX is powered by a new 8K projector to provide reliable high-resolution performance. Tiger3D Printers use Digital Light Projection (DLP) technology to print the parts from a light-reactive or photopolymer material. The unique Tiger3D projector allows for smoother surfaces and faster print times by projecting the entire layer at once, rather than other printers that "draw" the print with a laser. All parts printed on the machine are precise and accurate, from start to finish through the entirety of the build plate. The Tiger3D 8K – MAX XL will continue to provide the same great performance over and over, print after print.
Flexible and Open System
With the flexibility to adjust the printing parameters, Tiger3D Printers are compatible with many kinds of photopolymer resins for a variety of applications. With the ability to adjust the printing parameters, Tiger3D owners are not locked into proprietary materials and can use any compatible resin.
Easy to Use
You can begin printing within 30 minutes of unboxing your machine. Our support team will guide you through the setup process and training. Designed for efficiency and affordability, Tiger3D makes 3D printing more economical and practical. With the ability to print in a variety of materials, fast printing times, large build plate, and high resolution, Tiger3D completes any casting workflow.
Tiger3D PrinterTool
Arranging your models and building supports is easily accomplished with the included Tiger3D Printer Tool, featuring automatic and manual options. Other included optimization features include surface smoothing, edge enhancement, and sharpness adjustment to obtain your perfect printing results.
Flexible Printing Parameters
Peeling Motion and Movement Control
Print Speed Adjustment
Printing Scenario Adjustment
Parameters included for a variety of applications
Supports .STL and .SLC
Compatible with 3rd Party Software